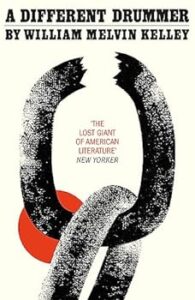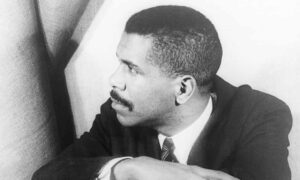 Every so often, a "forgotten classic" is rediscovered and the literary world rallies with praise and predictions. This is true of the reissue of John Willams's 1965 novel, Stoner, which went on to become an international bestseller. It also happened to the 1962 debut novel by William Melvin Kelley, an African American and member of the Black Arts Movement, who died in 2017. 
A Different Drummer more than lives up to the hype, both in terms of its literary accomplishment and in the power of its political vision.
Kelley's story is set in the deep south, in 1957, amid the racial hostility and resistance of the early civil rights era; but he also draws our eye to the complicated nexus of oppression, bigotry, reparation and guilt inherited by white Americans after the abolition of slavery.
The story revolves around the Willsons, a former slave-owning family whose latest scion, David Willson, has sold a piece of their former plantation to his servant, Tucker Caliban, the descendant of a rebel slave. 
THE MAJOR DECISION THESE BLACK MEN AND WOMEN MAKE 
The sale sets off a chain reaction and leads to a mass exodus of the town's Black population. Significantly Kelley's Black characters, including Tucker, are seen only through the eyes of the white majority, their motives never explicitly revealed. So when Tucker salts the fields he has bought (ie land on which his forefathers were oppressed), and burns down the house and kills his livestock before leaving town, the reason for his actions have "yet to be determined".
Instead, Kelley delves into the minds of the Willson clan past and present, including David, who now is head of the family business but who once wrote against segregation for a radical newspaper; also his wife, Camille, their two children – tracing their psychological trajectory from slave owners to benevolent masters, and then campaigners, of sorts, for racial equality.
Some chapters reach beyond the Willsons to the wider townsfolk, and here we see an America that holds fast to its moral superiority over Black people. There is as much outrage as confusion over the departure of Black locals, even if the governor's statement claims: "We never needed them, never wanted them, and we'll get along fine without them."
The Willsons, for all their past violence and residual prejudices, are drawn with sensitivity. Their daughter Dymphna feels sisterly towards Tucker's wife, Bethrah, who is all the more trusted because "she hardly looked like she was coloured, except maybe her nose".
READERS REACTIONS 
Published two years after Harper Lee's To Kill a Mockingbird, A Different Drummer also depicts the racial complexities of pre-civil rights southern life through children's eyes. Kelley's youngsters observe adult violence and bigotry without understanding it fully; we see their incomprehension of a changing America in which a man like Tucker must now be referred to as a "negro", not a "nigger".
Yet for all of Kelley's sympathetic characterisation, his ending returns us to the horrors of race hate. A new introduction to the novel ascribes Kelley's literary decline to the fact that "many white readers didn't want a black writer telling them what they thought, especially when so much of it was withering".
WHY READ IT TODAY? 
Today the book offers us an unflinching study of the southern white American psyche at the cusp of the civil rights movement: its belligerence against change, the incomprehension and anger. It is woeful to think that almost 60 years later, Kelley's story seems just as timely and as urgent, but what a gift to literature that we have rediscovered it.
 A Different Drummer by William Melvin Kelley is published by Riverrun (£8.99). To order a copy for £7.91 go to guardianbookshop.com or call 0330 333 6846. Free UK p&p over £10, online orders only.
P.S. I was privileged to have a Department Chair who chose this book to be read to my junior class English students; their different racial backgrounds made them eager to discuss this novel.