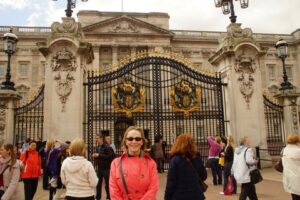 Of course, an Anglophile like me got up early to experience Charles Philip Arthur George's Coronation. Watching the very soon to be KING riding to Westminster in the Diamond Jubilee State Coach made me remember our trip to London in 2012. That visit proved that seeing London on foot, or occasionally using the underground (tube) or the big red buses, is totally doable.
We started our walking tour in Westminster, right on the Thames with Big Ben and the Houses of Parliament. It's an easy stroll to Westminster Abbey (there is a fee to enter). Then we proceeded down Birdcage Walk viewing the Royal Mews on one side of the road and St. James Park on the other. This then takes you right to Buckingham Palace and the Queen Victoria Memorial, where today Londoners were crowed, even in the rain, to watch King Charles and his family come out on the balcony and wave to the thousands before.
When there is not a massive crowd like today, you can then walk down The Mall, a broad avenue that flows from the Victoria Memorial and is often the scene of royal parades. You'll pass royal residences on the left (St. James Palace, Clarence House and Marlborough House) and proceed through the Admiralty Arch to Trafalgar Square. There amid many red buses, you'll find the National Gallery and the Portrait Gallery. It's just a short walk back down Northumberland near Whitehall, the Horse Guards Parade Grounds, and pleasant gardens along the Thames. You can cross the Golden Jubilee bridge to the southbank and go up in the London Eye, a giant wheel that provides great aerial views of the city. On another day, you might walk along the Southbank, where there is much to see, to the notable Tower Bridge. Across the Thames at the Tower Bridge is the Tower of London where Beefeater guides provide interesting history tale of the Traitor's Gate and the Bloody Tower.
From Tower Bridge you can easily see The Shard, a 1,016 ft. vertical city, London's tallest building, that houses offices, a hotel, residences and shops. Don't miss the dome of St. Paul's and the Memorial to the London Fire which can also be seen from the Tower Bridge.
My message, walk the city! We happened upon St. Martin in the Fields, dedicated to St. Martin of Tours. We went inside and so amazing, an orchestra was rehearing. We sat in the back, enthralled by the setting, the music, Bach and Vivaldi, and the amazement of wandering into this experience. That's London! A surprise around every corner.
P.S. I am still learning this new Word Press format. Please be patient with me, Beth